Sign up for Resume Writing
Learn how to effectively develop employment application materials for today's job market by honing your resume writing skills and developing an effective cover letter.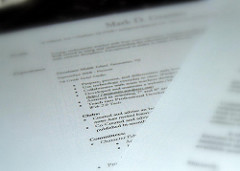 Creating a dynamic resume could make the difference between getting an interview or not, and in a competitive job market, this is critical. Let's help each other show potential employers just how valuable our skills could be for their organizations through the written word.
Facilitated by Audrey Sumser
Course materials provided by Saylor
This Learning Circle meets every Tuesday from 5:30PM to 6:45PM EDT starting 3 Oct. for 3 weeks.
At Cleveland Public Library--Rice Branch, Learning Center, Cleveland, Ohio, United States of America
Unfortunately this learning circle is now closed for signup.